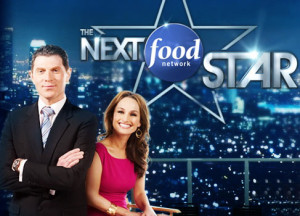 Last night I finally sat down and watched the Food Network Star Finale. I was kind of reluctant to watch it, as I often am with all finales. It's the true meaning of bittersweet, as you hope that your favorite wins, but you are sad that you won't be seeing this cast of characters again in this format.
We got down to the 3 finalists: Jay Ducote – radio host from Baton Rouge, Eddie Jackson – former NFL player turned food truck owner, and Dom Tesoriero – mac and cheese truck owner from New York.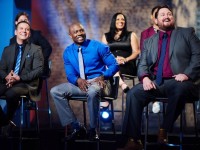 As I mentioned last time – Jay has been pretty consistent throughout the show – food always pretty spot on, on air personality very natural and relaxed. Dom has consistently struggled on camera until he was eliminated and then brought back through Star Salvation where something finally took and he started improving dramatcially. And then there is Eddie – easy on the eyes, conversational, the ladies like him – the men want to be him, yada yada. As I have also mentioned, I've just not been in his corner.
The finale is part recap, part reunion as all the contestants join together. They showed mostly the negative parts of other guests – like when mentor/judge Giada changed her mind and eliminated contestant Matthew Grunwald when he got this smug smile on his face. Also, when Emilia Cirker made fun of her fellow competitors in a very painfully awkward improv round and when Michelle Karam became the final female contestant and then quit the show.
In addition, they did a "road to the finals" recap for each of the final 3 – highlighting some of their successes and struggles throughout the season and then showing their "pilot" – a short 3-minute segment where they meet with a local NY restaurant and talk with the owners about their cooking style and history.
As usual, Jay was on point with lots of helpful hints and charm at a chicken and waffle place. Dom did suprisingly well interacting with the restaurant and customers of a Little Italy restaurant. And Eddie did a huge 180 from his "healthy cooking" to a barbecue segment where he chatted with the owner/chef about his Texas background.
SPOILER ALERT: WE ARE GOING TO TALK ABOUT WHO WINS
All 3 segments were great – and the judges commented in their deliberations that Jay was on point as always – and could have been handed a show at episode one and done well. Which I absolutely agree with and you think that would make him the automatic winner. But no.
Dom has made huge improvements and his pilot was really solid. You can definitely see a few parts where his interactions with some of the customers was a little awkward – and there was a little fear in his eyes. But that's after watching a season with him and really knowing it and looking for it. In spite of his great pilot, you know that there would be a concern about his ability to sustain his on-camera presence without wasting a lot of film trying to capture it. And so even though everyone loves an underdog, the fact that he wasn't a winner is not a huge surprise.
Which leaves us with Eddie. Did he do a good pilot? Yes, he did. Is he cute? Well, yes – he's a former NFL player. We've been over this part, remember? But his food has often been a downfall, and his Point of View (POV) went from "cheat day" to Texas Barbecue. The thing that has stuck in my craw just a little bit is a reaction that mentor/judge Giada had during the deliberations. The group was talking about how he could make food look good but still keep you healthy – I mean, look at him. Giada said a little too exuberantly – "YES."
And then they announced Eddie as the winner.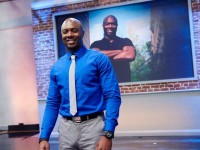 I'm happy for Eddie – but honestly, I feel that Jay should have won. If you are the number one contestant throughout the competition and have good tasting food AND good on air presence consistently – you should win. But Jay is a big guy and when it comes to the "pretty" contest – Eddie wins that.
Do I think it's fair? No. Do I understand why they did it? Unfortunately, yes. But it still makes me sad. Sad enough that I went to find out what happened to the Season 10 winner – Lenny McNab – who was a big guy with a big personality. I had not seen any pilots or series featuring him and wondered why. Evidently, after he won it was found out that he had made a lot of inappropriate and offensive posts on social media in the past and they decided not to move forward with him. Several of them included posts about Ree Drummond, the host of Pioneer Woman. Way to ruin it for yourself, Lenny!
So that's it – the contest is over for another season. I hope that Jay goes on to great things and that Eddie proves me wrong. Next time, I'll catch up on So You Think You Can Dance and Project Runway.
Until then – keep smiling!