Welcome to Joey Watches – another new segment of the blog! Here is where I talk about the TV and Movie shows that I have been viewing and some of my opinions about them. (Partly because on the "Guardians of the Geekery" podcast I always get shot down when I try to talk about it.)
I used to say that I watch some reality tv, but I've recently learned that the type of "reality" that I enjoy watching best are competition shows. This week I got to watch 3 of my favorites: So You Think You Can Dance, Food Network Star, and Project Runway.
So You Think You Can Dance (Fox, Monday Nights)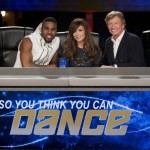 So You Think You Can Dance (SYTYCD) pits 20 dancers against each other in a weekly competition. Dancers are grouped together in twos and threes and paired with choreographers to interpret different dance styles. For Season 12, they divided the dancers in to 2 teams: Team Stage and Team Street. After each routine, dancers get critiqued by the 3 judges (Nigel Lythgoe, Paula Abdul, Jason DeRulo) and then told whether they are "safe" or in the bottom based on viewer's votes. Once all the contestants in the bottom are announced, viewers then get 5 minutes to tweet which 2 dancers they want to save (one from each team) and after the 2 teams perform group dances, the eliminations are announced. Viewers then can vote online or by phone for their favorites for the next week.
I just love dancing. Sit me down in front of an old Fred Astaire and Ginger Rogers movie or Gene Kelly and Debbie Reynolds, and I'll just watch it for hours. I took dance as a kid (there's a pic of me in a bumblebee costume floating around their somewhere) but what these dancers do on stage is amazing.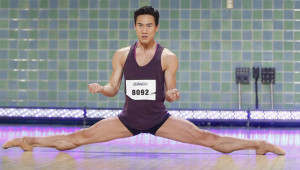 One of my favorite dancers on Team Stage is Jim Nowakowski. This dancer has the most amazing muscle tone and technical skills. His back story includes multiple facial surgeries as a child to fix a cleft palate, but what I love most is his amazing positive attitude. He captured my attention at auditions because of the way his happiness just radiated while he was dancing. This week I was worried when I didn't see him in the opening group number – then they explained that he had been injured and would be competing but not performing in any of the team dances.
This week they eliminated 4 contestants, making the remaining dancers the Top Ten. The Team Street dancer saved on Twitter was Neptune, who did an amazing dance with Stage dancer Gaby earlier in the evening and was a great choice. The Stage dancer saved was Derek, which was disappointing. Derek had been injured last week and his performance this week was not up to par at all. I had hoped they would save Alexia, who although she also danced poorly, has had a better body of work overall and really has some talent. I also felt she was handed some terrible choreography (fish burlesque? really?) and deserved another chance.
Other Stage Dancers I root for: Gaby (tapper) and Hailee (jazz) – both have been strong contenders. Gaby has been a chameleon, making each style appear like it was her proficiency. Crazy since she had to try out twice in the cattle call before they would originally consider her. Hailee comes off as flashy, but she's really goofy backstage. She has been paired twice with street dancer Virgil, and done some amazing routines.
Street Dancers I'm rooting for: Along with Neptune (freestyle) I'm also a huge fan of Jaja (Krump) from back when she tried out for season 11 and was eliminated right before the final 20. She's been able to pick up a lot of the stage styles well, although a little of her krumping seems to leak in to every routine. Finally, Virgil (hip hop) is another ball of happy. Although this week Virgil was paired with Hailee and did a very stunning and creepy modern dance number that was just great. Although shorter than many of the female dancers, Virgil just has a huge personality and is definitely an entertainer.
Food Network Star (Food Network, Sundays)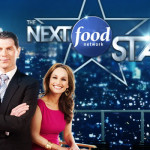 Food Network Star selects 12 culinary hopefuls to compete in a weekly competition with the promise of their own Food Network show development project to the winner.
This is the 11th season for Food Network Star, and I love it. The 2 judge-mentors are Bobby Flay and Giada De Laurentiis, who both are active hosts or their own shows with the network. Previous seasons also included Alton Brown but he's moved on to other things.
Each show typically features two competitive rounds with the first challenge round often provideing the winner with an advantage during the second elimination round. Each week, the judges determine a winner and then eliminate one hopeful. But not all is lost, as the eliminated contestant gets sent off to Star Salvation, a secondary web competition where they can compete with the other losing contestants for a chance to compete once again to be in the top 4.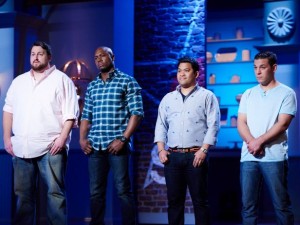 This week was the second-to-last episode for this season. The final 3 had been selected: Jay Ducote – radio host from Baton Rouge who has a passion for tailgating and fried foods, Arnold Myint – a restaurant owner from Nashville with a flair for entertaining and all things fabulous, and Eddie Jackson – former NFL player turned food truck owner with an emphasis on making healthy taste good. In comes Dom Tesoriero as the winner of Star Salvation. He's a pure New Yorker, an international competition winner and owner of a mac and cheese truck.
The key to the Food Network Star competition is that you have to be both a great cook AND good on camera. Jay Ducote has been both throughout the competition – his radio background includes culinary media and he just seems born for it. Both Eddie and Arnold have both been riding the see saw between good food and good camera presence. They have great personalities, but either miss the mark with their food or get lost on camera.
But the biggest gamble has consistently been Dom. Hands down he has been the best cook each week, with really never any issues being mentioned about his food (except his risotto – as Shorty Hulk points out after any Gordon Ramsey show – why don't people just not make risotto?? It's way too finicky for competition). However Dom struggles with on-air all the time – he overthink things then stumbles and then just freezes. When he doesn't hamper himself, he's great. His camera asides are always conversational and great, so we all suspected that eventually he gets over this. But in prior competitions he has just been struggling.
However this week – Dom makes it through it, even recovering when he stumbles. Arnold has another stumble on air, and he is eliminated from the final round. This leaves Eddie, Dom and Jay with the opportunity for each of them to make a mini-pilot for a show they would like to do on Food Network – so they fly to New York and meet Rachel Ray, who coaches each of them through the filming.
Next week, the mini-pilots will be shown and the winner will be revealed. I'm torn between Jay, who has been consistent week to week, and Dom, because who doesn't love an underdog? Sorry Eddie, I'm just not in your corner for this one, although you are a very nice guy I'm sure.
Project Runway (Lifetime, Thursdays)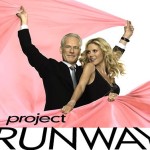 Project Runway is in its 14th season! Heidi Klum returns with Tim Gunn as well as judges Nina Garcia and Zac Posen. Gone is Michael Kors (he left after season 10 due to scheduling issues).
I'll be honest, I used to watch Project Runway fiercely, and then when it moved from Bravo to Lifetime I couldn't keep up with the schedule, and then life just got in the way. But now with the wonderful addition of a DVR in my life, I can watch it at will and this is awesome.
This season started with 15 designers, and their first challenge was to grab fabric that had been spread all around the inside of Madison Square Garden to make an outfit that represents "who they are." There is a mad dash and people pushing and shoving and all the usual crazy before the designers head back to Parsons School of Design to start creating their clothing.
Shockingly, 3 designers did not bring any of their sewing stuff with them. One person says it was because her bags were too heavy for the plane, so she just left it behind. LEFT IT BEHIND? ARE YOU INSANE?? Evidently, they just assumed the competition would provide them with all new stuff. Instead they had to borrow things like scissors and measuring tapes from other designers so they could compete.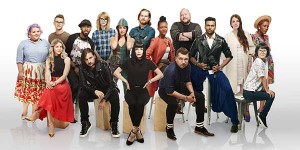 Typically each episode will focus on 2-3 designers, with more of a person's story being told usually being a red flag that they might go home. Also, there is always a bit of work room drama – this week it was definitely all the talking and singing Merline was doing, either in her excitement or just as a strategy to annoy the other competitors. Definitely under the radar was Gabrielle – I don't think they focused on her once – which reminds me a little of Leanne Marshall, the winner of Season 5. She has that sort of wispy, lost little girl look as well.
The winner of this week's challenge was Ashley Nell Tipton. She is a plus-sized girl who designs plus-sized clothes and to be honest, I want to buy almost all the outfits they showed from her portfolio. Of course, in this competition she will be designing for models most of the time – so she's having to adjust. And since she was heavier, she was not dashing all around Madison Square Garden grabbing fabrics – so the fact that her winning design was so stunning is awesome.
We are only at episode one and I'm excited for the future episodes. Maybe it will even find me pulling out my sewing machine and pretending I'm a designer too.
That's it for this week – I'll keep watching – hope you keep reading! Feel free to voice your opinions or discussions in the comments!