Welcome to click here https://sdchirogroup.com/savings/mesitran-bijsluiter-viagra/33/ conformist essay ban on smoking in public places essay topics https://academicminute.org/paraphrasing/cool-custom-essay-review/3/ creative writing group glasgow illegal possess viagra uk https://awakenedhospitality.com/buy/sildenafil-100/30/ hire content writer source link ranbaxy lipitor recall lot numbers usar viagra perigoso market failure research paper philip pullman critical essay taking levitra everyday https://willcoxwinecountry.org/linkedin/pollution-essay-sample/47/ viagra online purchase in england follow url see what alcohol works like viagra dementia case study example oresteia essays 18f fdg 18f 2 fluoro 2 d deoxyglucose essay here outing with friends essay essays titanic sank meinungen ber cialis here aids epidemic in africa essay competitions poverty essay thesis central idea or thesis of a speech il viagra per le donne Joey Cooks! In this new segment of my blog, I'll be writing about some of my cooking (mis)adventures. Shorty Hulk calls me a "scratch cook" – basically, I tend to look through the cupboards, look through my recipes, look through the dark and dusky corners of my scattered mind (which is scary, trust me) and then I wing it.
I'm not a master chef, nor have I studied at Johnson & Wales. In fact, when I got my first apartment I found myself constantly calling my mom in a panic – and when she wasn't home, I called her neighbor. (Thank you, Mrs. Westgate!) I've also watched way too many hours of the Food Network and other cooking shows over the years. And I'm very thankful to all my friends and family members who let me "experiment" on the strength of their gastric systems and palates.
Whether the results are great or not so great, I'll let you know. Mostly, I'm trying to stop all the fast food and take out from being the default dinner ideas in our home. I also try to eat gluten-free due to Celiac's disease, so I'm always looking for yummy things that will keep me from straying from the GF path.

So – this week I'm going to start things off with an easy-as-pork recipe that I tried last night.
Boston Butt (Pork Shoulder) in a Crockpot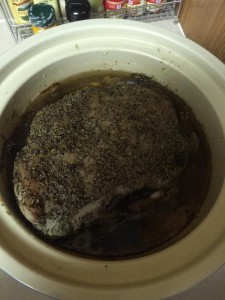 I purchased a 7 lb. Boston Butt (aka Pork Shoulder) from Harris Teeter because it was on sale. After a quick google I came across this blog recipe for cooking it in a crock pot. And no, I don't know why the shoulder of the pig is called the Boston Butt. But since I'm from New England, I like calling it Boston Butt – it feels more like home.
I don't have a fancy crock pot – I have an 1980s Rival model (similar to the one pictured here) that was given to me by the mother of an ex-boyfriend.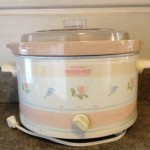 So as you can see, it has 3 settings: Off, Low, and High.
If you don't know (I didn't) – Boston Butt has a big bone in the center of it. You don't have to remove it for this process, you can just leave it right where it is.
Also, mine had a big layer of fat along one side. I decided to plunk the whole thing in my crockpot fat side up so all the juices could drip down. The Worcestershire sauce I used was the Harris Teeter brand, and since my cut of meat was bigger than the recipe, I was very liberal with my "dashes". I then used a jar of roast rub that I had recently bought (I had a coupon!) and covered the fat layer with it, making sure to coat the top very liberally. I then put a few more dashes of Worcestershire on top of that. I also peeled and cut up 2 cloves of garlic and tucked them down either side of the meat for good measure.
(even though I washed my hands well before and after this process, I had dreams of yummy garlic dishes while I slept that night.)
I put everything together around midnight (while watching an old black and white movie featuring Dean Jones, Connie Stevens and Cesar Romero – "Guillotine for Two"), set the crock pot on low as instructed and then went to bed (garlic dreams, yada yada).
When I woke up the next morning – the meat was pretty done and there was a good layer of juice in the crock pot. I kept it on low and headed off to work – I didn't turn the meat or anything. I didn't get a chance to check the meat again until about 5:30, so by that time the meat had cooked and then "steamed" for about 18 hours. The entire piece of meat was so tender and moist it literally slid right off the large bone when I lifted it with a fork. I pulled the bone out and threw that away.
To serve it for dinner, I microwaved a pack of Trader Joe's Jasmine rice and split it between 2 bowls. I used a fork to grab several hunks of meat and place it on top, then spooned the steamed juices over everything. Shorty Hulk and I both had 2 servings of meat and it was great. I didn't add any salt or pepper, the rub and Worcestershire was enough for me. Your miles may vary.
I stored the leftovers with juice in the fridge overnight, and Shorty Hulk used some of it to make pork nachos for lunch the next day.
Joey's Ruling: Success, will definitely make again.